Because everyone and their moms are doing it.
AX this year was less fun and more stressful than last year because of certain things I need not disclose, but there are many other things that made this AX bearable. If you had a bad AX this year, try to focus on the good stuff. At least you didn't get terribly sick and still had to sell and do commissions like I did. Or if you did, then at least you didn't die selling at a con.
First off, thanks to everyone who stopped by the table for various reasons, from buying stuff to just bothering me in general (ahem, yes, you know who you are). Thank you for all the strange commissions, the random awkward moments, the fanart by
~
pineapple-pocky
and
~
Haiyun
, the cleavage payment, the dollar coins, the UCSD folks visitations, the awesome OP cosplayer folks who kept coming back to my table, and most especially, the paintin of ace with a hole in his stomach, courtesy of the awesome
~
hanshee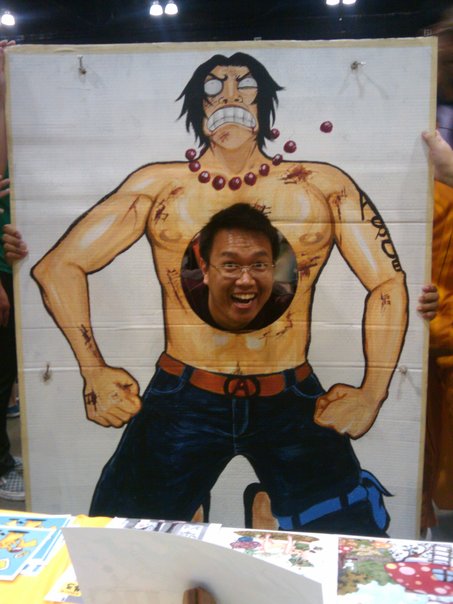 Sales this year was surprisingly decent considering the amount of pre-AX drama that's going on. I actually sold out of Marchen Time
fav.me/d2e4u14
because I forgot to restock, and I also ran out of a lot of my little postcards, especially the new ones I managed to shit out the weekend right before AX. I was kept busy the entire con because of the number of commissions I got, and ended up not having time to visit artists I know around the alley until the last hour of the last day of AX.
Maybe I should get a full-time helper next year or something.
Thanks also to everyone who bought a copy of WAITT. I would never dream to sell 20 original comicbooks at a convention like Anime Expo. I have 10 more copies of WAITT I will be selling at some point this month, but for now since I'm still coughing up my lungs and I have guests to entertain, I want to take a break from everything.
Regarding WAITT: all of the preorders have been sent out. Everything. I no longer owe anyone anything. If the book didn't get there, that's the post office's fault. Next time I'm just gonna use an online store or something because it was unexpectedly difficult to manage alone.
Also, no online print sales this year. Shipping is too painful. I wish I was a cheesecake.
~
e1n
out.
---
journals on STATUS updates
commission INFO
Frequently Asked Questions
GIFT ART
218,828:
~
lLuffyl
- Law messing with DF power
314,159:
~
Superman360
- Robin making sandcastle with DF power
SKETCH REQUESTS
PROUD MEMBER OF eeCAFE+ STUDIO