Three more days until AX 2011! Since I'm selling there with the rest of the eecafe crew, it might be a good idea to let you guys know where we'll be sitting. We will be occupying Row B, Table 19-23. Mine, in particular, is B22.
Here's a map. Click for a larger version.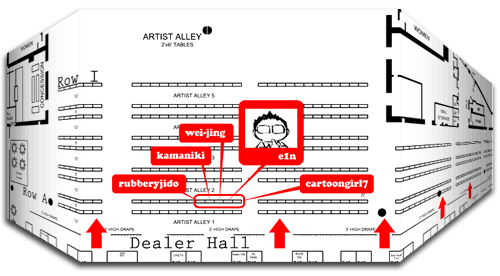 I will be selling my OP and Pokemon colorspreads, as well as taking chibi commissions as usual. I'm still contemplating on whether I'll be taking non-chibi commission, but if you're interested in such, it doesn't hurt to ask. WAITT volume 1 and volume 2 will also be sold there, as well as the Tamagotchi anthology that contains my recent one-shot,
Apples & Strawberries
.
I might also be auctioning and giving away some original art. Those who have been to my livestream should know the details of the giveaway. Remember, first come first serve.
See you in a few days!
~
e1n
---
journals on STATUS updates
commission INFO
Frequently Asked Questions
GIFT ART
218,828:
~
lLuffyl
- Law messing with DF power
314,159:
~
Superman360
- Robin making sandcastle with DF power
SKETCH REQUESTS
PROUD MEMBER OF eeCAFE+ STUDIO