I've never been this stressed out for a convention, thanks to people making last minute changes and addition all the other crap thrown at me by AX's lack of organization. But don't worry, this isn't a rant journal.
Anime Expo 2010 in Los Angeles, California is coming up, and my table placement is finally finalized, thanks to Teresa B., the awesome new manager of the alley. My table location is B16, and I will be sitting next to
~
cartoongirl7
,
*
Kamaniki
, and
~
syntic
. Here's a picture. Click the image for a layout of the entire hall, so you know where is what.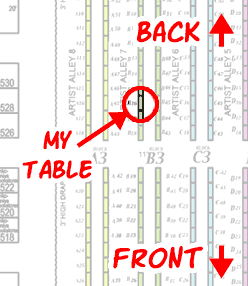 I am now trying to finish another One Piece print before Wednesday, when I need to get all the stuff sent in to the printer, so please bear with the lack of comic update. Contrary to popular belief, it's not easy to finish 2 colorspreads in a week, on top of other things you have responsibility over.
Those of you who have preordered WAITT volume 1:
I AM TRULY SORRY FOR NOT HAVING SENT THEM OUT.
I haven't had time to fulfill all of your sketch requests because of AX preparation marathon, and so I've only sent out the first batch, which is like... 10 out of 117. Taking care of preordering, printing, handling, and mailing out these comic books turn out to be a lot more work than one man can handle, especially close to a convention. Next time I'm selling these comic books I'm gonna do it through someone else, a proper distributor or something.
So yeah, at the cost of sounding inconsistent and unreliable, I ask that you be a bit more patient with the lack of progress on something that you have paid for. I apologize for the inconvenience.
~
e1n
out.
---
journals on STATUS updates
commission INFO
Frequently Asked Questions
GIFT ART
218,828:
~
lLuffyl
- Law messing with DF power
314,159:
~
Superman360
- Robin making sandcastle with DF power
SKETCH REQUESTS
PROUD MEMBER OF eeCAFE+ STUDIO